The American Viola Society is committed to supporting recordings of viola music.  To make a donation to help support AVS recording projects, please click HERE.
Recording Label
In 2021, The American Viola Society announced the creation of a recording label to serve as a vehicle for AVS members to present and produce professional recordings sponsored by the AVS.  The innaugrual album performers and repertoire have been selected and can be found on our page 2021/2022 Recording Project.
2024 Recording Project
The AVS has issued a call for the 2024 Recording Project, this time for submissions of works for viola, including solo or with one other instrument.  There is no theme for this call.  Submissions are due January 1, 2023 with an anticipated release date of January 2024.
AVS Premieres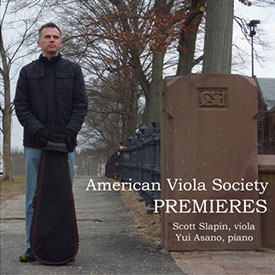 Released in 2014, the American Viola Society's first recording features violist Scott Slapin and pianist Yui Asano in premiere recordings of music from the American Viola Project. Members can access this digital-only recording as part of the AVS's many new member benefits. The album is also available for purchase from iTunes, Amazon, Google Music Store, and other outlets.
Members – hear the AVS Premieres recording here.