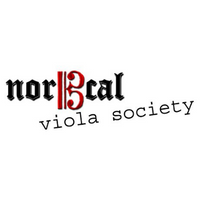 NorCal Viola Society presents ViolaMANIA 5.0
Join us for ViolaMANIA 5.0 on Mon., Dec. 12, 2022 (6:30 PM doors/7:30 PM concert at Freight & Salvage, 2020 Addison St., Berkeley). This viola extravaganza begins with an hour of viola ensemble reading groups open to everyone to play along, then a concert featuring amazing Bay Area violists, and culminates with a mass performance of the beloved Telemann Viola Concerto in G, with the audience playing the solo part. All levels welcome. Raffle includes a very nice case from Dolce Violins and a beautiful bow from Heaney Violins.
Even if you can't make it to ViolaMANIA, you can attend a FREE "Coach with a Pro!" session on the Telemann Viola Concerto (Nov 6 and Dec 1).
See the event website for more details!
Contact Person: Kevin Jim